Are you using the Daily Attendance Post Verification Report to check which classes have not posted their attendance?  Have you called some teachers to follow up and then hear that they have posted their attendance but the report says differently? Do you want this madness to stop?
If this is you, then try the Class Attendance Post Verification Report:
School View > Attendance TT > Class Office ST > Reports > BC Class Attendance Post Verification > select a period (or many periods)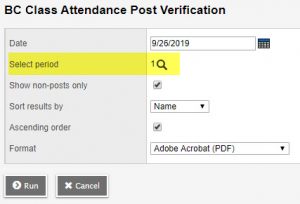 The Class Attendance Post Verification report focusses on the class so when you have more than one teacher that is reporting attendance for a class, any of these teachers can post attendance on any given day and you get the right information in this report.
The Daily Attendance Post Verification report focusses on the primary teacher so if one of the other teachers posts attendance, this report does not give you the right information  . . .  and the madness continues.